by Ada Cambridge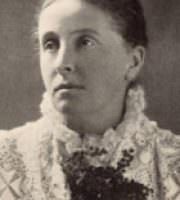 Late, late, the prize is drawn, the goal attained,
The Heart's Desire fulfilled, Love's guerdon gained.
Wealth's use is past, Fame's crown of laurel mocks
The downward-drooping head and grizzled locks.
The end is reached-the end of toil and strife-
The end of life.
Love flowers and fades like grass, and flowers again;
The spendthrift lovers waste themselves in vain;
Their fiery passions burn out one by one,
And then, alas! when their best days are done,
Spirit and body find their perfect mate-
So late! So late!
Long-sought, long seeking, through the lonely years,
The wanderers meet to weep their useless tears
For time and chance irrevocably flown,
Dear hopes outlived and happy faiths outgrown,
Children unborn, the myriad joys unseen
That might have been.
Not for the spring and morning-time of youth
The perfect flower of slow-unfolding truth,
The perfect love, that dreams of youth foretell,
But youth knows not and youth could never tell;
That light celestial, as of sunset fires
When day expires.
Late comes the gift that crowns the hungry quest,
Like ripe wheat-harvest in a land at rest,
And comes alone, a consecrated cup,
To those proved worthy to sit down and sup.
To them-aye, aye, despite their treasure lost,
'T'is worth the cost.
'T'is worth the cost to reach the heights at last,
Ere eyes are dim and daylight overpast.
To see one aim achieved, one dream fulfilled,
Ere striving brain and trusting heart are stilled.
To live one glorious hour-its price of pain
Is never paid in vain.
Last updated January 14, 2019