by Amir Khusro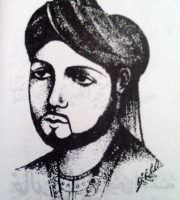 Aaj rung hai hey maan rung hai ri
Moray mehboob kay ghar rang hai ri
Sajan milaavra, sajan milaavra,
Sajan milaavra moray aangan ko
Aaj rung hai........
Mohay pir paayo Nijamudin aulia
Nijamudin aulia mohay pir payoo
Des bades mein dhoondh phiree hoon
Toraa rung man bhayo ri......,
Jag ujiyaaro, jagat ujiyaaro,
Main to aiso rang aur nahin dekhi ray
Main to jab dekhun moray sung hai,
Aaj rung hai hey maan rung hai ri.
Translation-
What a glow everywhere I see, Oh mother, what a glow;
I've found the beloved, yes I found him,
In my courtyard;
I have found my pir Nizamuddin Aulia.
I roamed around the entire world,
looking for an ideal beloved;
And finally this face has enchanted my heart.
The whole world has been opened for me,
Never seen a glow like this before.
Whenever I see now, he is with me,
Oh beloved, please dye me in yourself;
Dye me in the colour of the spring, beloved;
What a glow, Oh, what a glow.
Last updated January 14, 2019