by Amir Khusro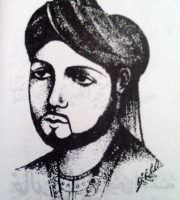 Chashmay mastay ajabay zulf daraazay ajabay,
Mai parastay ajabay fitna tarazay ajabay,
Behray qatlam chu kushad taighe-nihaan sar basajud,
Oo ba-naazay ajabay mun be-neyaazay ajabay,
Turk taazay ajabay sho'bada baazay ajabay;
Kajkulahay ajabay arbada saazay ajabay;
Haq mago kalma-e kufr ast darein ja Khusrau;
Raaz daanay ajabay saaheb-e raaz-e ajabay.
Translation-
O wondrous ecstatic eyes, o wondrous long locks,
O wondrous wine worshipper, o wondrous mischievous sweetheart.
As he draws the sword, I bow my head in prostration so as to be killed,
O wondrous is his beneficence, o wondrous my submission.
O wondrous amorous teasing, o wondrous beguiling,
O wondrous tilted cap, o wondrous tormentor.
Do not reveal the Truth; in this world blasphemy prevails, Khusrau;
O wondrous source of mystery, o wondrous knower of secrets.
Last updated January 14, 2019