by Atul Chandra Sarkar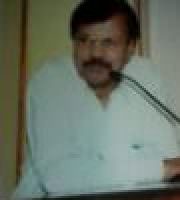 Do I have to open my eyes
To see you?
Never, yes, never;
Your aura brightens my shut eyes,
I can see you out and within;
You're a tang, a fragrance,
That stirs up my senses,
You're a thought,
That awakens a beautiful world,
Where language is Silence,
And movement,
The eternal rhythm that weaves
Kaleidoscopic collages
On Nature's canvas.
You're the warmth,
That melts and mingles me in you;
A reverie, I always hanker,
A dream, without an end;
My outline loses its trace
In your dimension:
Without frontiers,
Border-less;
I search my form,
Not because I want it back
But to ensure,
That I am really, really,
Blissfully lost
In you:
A departed soul
Beyond human view!
From:
ATUL CHANDRA SARKAR
Copyright ©:
atul chandra sarkar
Last updated December 15, 2014