by Atul Chandra Sarkar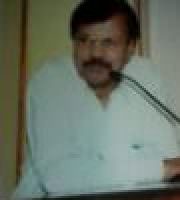 One whiff of rumour,
Disturbs us all;
One share of humour,
Thrills us all;
One member's tumour,
Agonises us all;
And members rush
On one distress call.
We grumble, quarrel, fight,
Complain, shout, scream;
We hug, kiss, embrace;
Eat, pray, dream.
Here's the solace
Of the warm breast;
The comfy relief
Of the lap, coziest.
The finger to hold
Confidently tight,
To cross the road
Or fight the night.
The hand to clasp
Whenever insecure,
The embracing arm:
Unselfish and pure.
The shoulder to rest
To shed our tear;
The boulder for refuge
To shred our fear.
The bond of love
Which clutches together;
The strength of unity
In fair and foul weather.
United we stand,
Divided we fall;
It's a FAMILY
A-f-t-e-r a-l-l.
From:
ATUL CHANDRA SARKAR
Copyright ©:
atul chandra sarkar
Last updated November 14, 2014