by Barbara Smith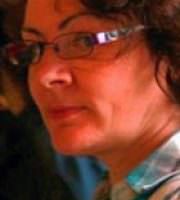 You were nearly Nemain and Macha
for a while, as I reversed into the idea
of two not one. I turned to books
to see how to deal with motherhood
again. Born in the hot-house of Gemini,
Dáire, you were all ready for the bull's-eye.
Small, dark, but sturdy like an oak;
you emerged – just like I imagined the stoic
owner of that brown bull that set off
all of Ulster's woes, with Medbh's
mad quest – six-pound-six and a double crown
whirling vernixed hair up and around
to your father's huge eyes, all indulged
within the handhold of a soft skull.
But Eímear, you stayed beneath my ribs;
the registrar producing you like a gift
to warm applause from Sister, nurses, students;
just like Cúchulainn's darling, already fluent
in the crooking of others to a finger's curl.
A smaller purse of red lips; eyes that curved
in echo of your brother's; but smaller by
just four ounces. You both slept – doubly wise –
swinging in a plastic crib: two small Buddhas
responding blindly to each other's touches.
From:
2012, The Angels' Share
Copyright ©:
Jeremy Mills Publishing
Last updated July 22, 2021