by Charles Baudelaire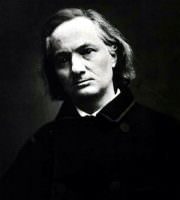 Quoique tes sourcils méchants
Te donnent un air étrange
Qui n'est pas celui d'un ange,
Sorcière aux yeux alléchants,
Je t'adore, ô ma frivole,
Ma terrible passion!
Avec la dévotion
Du prêtre pour son idole.
Le désert et la forêt
Embaument tes tresses rudes,
Ta tête a les attitudes
De l'énigme et du secret.
Sur ta chair le parfum rôde
Comme autour d'un encensoir;
Tu charmes comme le soir
Nymphe ténébreuse et chaude.
Ah! les philtres les plus forts
Ne valent pas ta paresse,
Et tu connais la caresse
Ou fait revivre les morts!
Tes hanches sont amoureuses
De ton dos et de tes seins,
Et tu ravis les coussins
Par tes poses langoureuses.
Quelquefois, pour apaiser
Ta rage mystérieuse,
Tu prodigues, sérieuse,
La morsure et le baiser;
Tu me déchires, ma brune,
Avec un rire moqueur,
Et puis tu mets sur mon coeur
Ton oeil doux comme la lune.
Sous tes souliers de satin,
Sous tes charmants pieds de soie
Moi, je mets ma grande joie,
Mon génie et mon destin,
Mon âme par toi guérie,
Par toi, lumière et couleur!
Explosion de chaleur
Dans ma noire Sibérie!
Afternoon Song
Though your mischievous eyebrows
Give you a singular air,
Not that of an angel,
Sorceress with Siren's eyes,
I adore you, my madcap,
My ineffable passion!
With the pious devotion
Of a priest for his idol.
Your stiff tresses are scented
With the desert and forest,
Your head assumes the poses
Of the enigma and key.
Perfume lingers about your flesh
Like incense about a censer;
You charm like the evening,
Tenebrous, passionate nymph.
Ah! the most potent philtres
Are weaker than your languor,
And you know the caresses
That make the dead live again!
Your haunches are enamored
Of your back and your bosom
And you delight the cushions
With your languorous poses.
Sometimes, to alleviate
Your mysterious passion,
You lavish, resolutely,
Your bites and your kisses;
You tear me open, dark beauty,
With derisive laughter,
And then look at my heart
With eyes as soft as moonlight
Under your satin slippers,
Under your dear silken feet,
I place all my happiness,
My genius and destiny,
My soul brought to life by you
By your clear light and color,
Explosion of heat
In my dark Siberia!
- Translated by William Aggeler
Song of Afternoon
Though your eyebrows' wicked slant
Give you an intriguing air
Which the angels do not share
Sorceress, whose eyes enchant -
My passion, terrible yet gay,
With all my heart I bow before you,
With that devotion to adore you
That priests to sacred idols pay.
Deserts and woods embalmed your hair,
Its movements give your head the stigma
Of sphinx-like secret and enigma,
Both in its attitude and air.
As round a censer vapours form,
About your flesh the perfumes wander.
The selfsame charms you seem to squander
As does an evening, dark yet warm,
The strongest philtres cannot craze
As does your indolent address
And you have mastered a caress
Dead corpses from their tombs to raise.
Your hips are amorous of your breast
And of your back: your languorous pose
Enchants the cushions where you doze
When in their depths you make your nest.
Sometimes in order to appease
Mysterious rages in your soul,
You bite and kiss without control.
Then with a mocking laugh you tease
My heart, brown beauty, tearing it:
Then over it the light is strewn
Of your eye, softer than the moon,
Till with its glance my soul is lit.
Underneath your satin shoes,
And underneath your silken feet,
My joy, my fate, my genius meet
To strew the pathway of my muse.
My soul is healed, restored and made complete
By you, all colour, warmth, and light,
In my Siberia a bright
Explosion as of tropic heat.
- Translated by Roy Campbell
Afternoon Song
O witch with sharp alluring eyes,
Although your evil eyebrows lend
Your strange ways little of the friend
And even less of angel skies,
How I adore your madcap verve,
How deeply rooted, my fell passion!
I worship you in the rapt fashion
Of priests for idols that they serve.
Your stiff dense tresses fragrantly
Conjure up wilderness and wood,
Your head assumes each attitude
Of the enigma and its key.
Perfumes cling closely to your flesh
As incense to a censer; bright
And dusky nymph, you are all Night,
Secret and passionate and fresh!
The strongest philter vies in vain
Power against your languidness,
Too well you know the sweet caress
That brings the dead to life again.
Your haunches are enamored of
Your supple back and surging breast,
And when, posed torpidly, you rest,
Your cushions taste the charms of love.
Sometimes to quell the rageful fire
Of your mysterious lust, you lavish
Obstinate kiss and bite to ravish
The throbbing prey of your desire.
You rend my body to its seams,
Dark beauty, with your mocking laughter,
Then fill my heart a moment after
With glances soft as the moon's beams.
Under your satin slippers, see,
Under your blest silk feet, I lay
The vast sum of my joys today,
My genius, my destiny,
My soul, enlivened by your spark
Your radiance and color, sweet
Explosion of fierce tropic heat
Across my chill Siberian dark!
- Translated by Jacques LeClercq
Afternoon Song
Though your wicked eyebrows call
Your nature into question
(Unangelic's their suggestion,
Witch whose eyes enthrall)
I adore you still
O foolish terrible emotion
Kneeling in devotion
As a priest to his idol will.
Your undone braids conceal
Desert, forest scents,
In your exotic countenance
Lie secrets unrevealed.
Over your flesh perfume drifts
Like incense 'round a censor,
Tantalizing dispenser
Of evening's ardent gifts.
No Philtres could compete
With your potent idleness:
You've mastered the caress
That raises dead me to their feet.
Your hips themselves are romanced
By your back and by your breasts:
By your languid dalliance.
Now and then, your appetite's
Uncontrolled, unassuaged:
Mysteriously enraged,
You kiss me and you bite.
Dark one, I am torn
By your savage ways,
Then, soft as the moon, your gaze
Sees my tortured heart reborn.
Beneath your satin shoe,
Beneath your charming silken foot.
My greatest joy I put
My genius and destiny, too.
You bring my spirit back,
Bringer of the light.
Exploding color in the night
Of my Siberia so black.
By Anonymous
Last updated July 17, 2015