by Philo Ikonya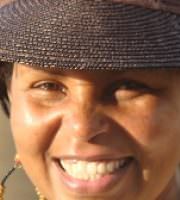 The split
Have you felt the pain of the sword,
that drives between you and your loved one?
Have you felt how in racism, it drives recklessly,
between your skin and blood, the cells and hair and
how it makes the others' eyes old?
Have you felt is colder than ice,
cutting deeper than a machete?
Have you felt how the knife cut
between you and your sister, your brothers
become strangers. Have you felt this?
Have you felt the knife try,
to cut your teeth to the gum,
to slice your bones to blood?
Have you heard shrapnel,
raining on every home you know,
and the news is that you have been bombed
by a powerful nation because your dic tator does
not surrender,
have you?
Copyright ©:
Philo Ikonya
Last updated July 14, 2015