by Philo Ikonya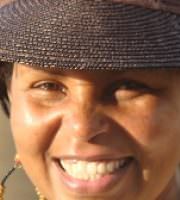 You ask me why my canoe is so narrow
And why my oar of a revolution is
Shaped like a bat and long like a story.
I remind you i made it from a little pencil
And the oars from the parts that remained,
after you burned my house in flames.
It takes me far. It takes me far. It takes me..
I row, I row, I row, I row,
row, row , row , row and bat. Here it is:
My boat of abc?deÑ@?fghij??!*?
æ&£öð®?¿???!kal and finally å and ø©
The seas of alpha bets are many
but they are one in deep meaning, free.
I will be back in a tiny pencil canoe
I know I will, with a song so long for an oar,
and a roar that hoars till the rain falls.
I will be back with wider blocks
A Push kin movement smiling and still raving
back in search of the free word, hurrah!
No group, no border, no familiar threats
no class can hold me.
No, river.
No tribu tary,
Unstoppable I am.
Hurrah again!
You will be heard saying hipp! hipp!
and us, Hurrah! Hurrah, hurrah, hurraaaa!
Oslo, 2011
Copyright ©:
Philo Ikonya
Last updated July 14, 2015