Biography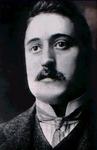 Guillaume Apollinaire (Wilhelm Albert Vladimir Apollinaris Kostrowitzky) was born in Rome on August 26, 1880. He purposefully kept his parentage clouded in speculation but was most likely the illegitimate child of Angelica Kostrowitzky, a Polish woman living in the Vatican. Apollinaire was raised in the gambling halls of Monaco, Paris, and the French Riviera; during his education in Cannes, Nice, and Monaco, he assumed the identity of a Russian prince.
In his twenties he worked for a Parisian bank and kept company with artists such as Picasso, Braques, Chagall, Max Jacob, Eric Satie, Marcel Duchamp, and his lover, Marie Laurencin. During this time, he published a number of semi-pornographic books, proclaiming that the writing of the Marquis de Sade would gain prominence in the new century.
Apollinaire's first collection of poetry, L'enchanteur pourrissant, appeared in 1909, and his reputation was established in 1913 with Alcools, a melange of classical versification and modern imagery. Apollinaire had a reputation as a thief—he was detained for a week in 1911 on suspicion of stealing the Mona Lisa—and decided to become a French national by enlisting in the infantry during World War I.
He was stationed on the front in Champagne until 1916, when he suffered a head wound and had to be trepanned. He outlined his poetic and political beliefs in L'esprit nouveau et les poëtes in 1917. In 1918, after a series of short-lived affairs, he married Jacqueline Kolb. War-weakened, Apollinaire died shortly after of the Spanish Flu on November 9, 1918, in Paris. Calligrammes, a collection of concrete poetry, was published a few months after his death.
Apollinaire was an important part of several avant-garde movements in French literature and art at the start of the twentieth century. His influences include the Symbolist poets of the former generation: Victor Hugo, Charles Baudelaire, Paul Verlaine, Arthur Rimbaud, Jules Laforgue, and Tristan Corbière.
His work is often concerned with the clash between the modern and the traditional, often juxtaposing drastically different stylistic elements: it exhibits gritty modern imagery in traditional forms, for example. His book Peintres cubistes (1913) expounded on the theory behind cubism and analyzed the work of important cubists. His play La mamelles de Tirésias, which was made into an opera by Francis Poulenc in 1947, is one of the earliest examples of Surrealism—a word he is credited for coining.
Books:
L'enchanteur pourrissant (1909)
Alcools (1913)
Le poète assassiné (1916)
Calligrammes (1918)
La mamelles de Tirésias (1917)
Les onze milles virges (1906)
Les mémoires d'un jeune Don Juan (1907)
Peintres cubistes (1913)
L'esprit nouveau et les poètes (1918)
Last updated August 30, 2011