by Joseph Ignatius Constantine Clarke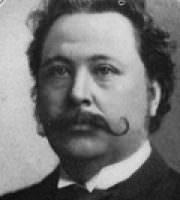 A kiss in the violet dawn,
Her dark hair wild on my breast.
A light step over the lawn,
A red star gone in the West.
And lo, as I turned from the ancient gate,
Stood Love with a seal for my life and fate:
Stood Love rose-crowned in the morning mist,
With a seal of pearl and amethyst.
A kiss in the violet dawn,
The chirp of a waking bird,
The rush of a startled fawn,
The echo of one deep word;
And whether my way be of shards or flow'rs,
Of shadow or shine in the after hours,
It recks me little: that hour was mine
That fled in the violet dawn.
Over the sea, and over the sea,
A woman's heart is here with me,
And under her skies when the dawn wind stirs,
She knows that my heart is there with hers.
Tho the rose that tossed in her hair lie dead,
And the cheeks gone pale that flushed so red,
She'll feel the rise and fall of my breast,
As we watched that star go down in the West,
To a kiss in the violet dawn.
A kiss in the violet dawn,
But lo, from the East outspun,
A golden glint on the lawn,
For joy of Love's risen sun.
Last updated January 14, 2019