by Ranjit Hoskote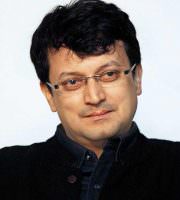 Morning wells like blood
in the stag's hollow eye.
That horned fleece is yours, priestess;
this stone axe, mine.
I won't wear my minotaur mask again.
I've spent the night carving
this ring of bone for you :
print your palm in vermilion
on this rock-face and today
spouts of fire will drive the bellowing wind
mad. Your name swells
in my mouth. Stop me
with the blood-rush of your hair,
the long ripple of your spine.
Copyright ©:
Ranjit Hoskote
Last updated August 31, 2015