by Arthur Henry Adams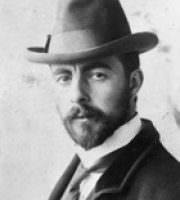 THEY drew him from the darkened room,
Where, swooning in a peace profound,
Beneath a heavy fragrance drowned
Her grey form glimmered in the gloom.
Death smoothed from her each sordid trace
Of Life; at last he read the scroll;
For all the meaning of her soul
Flowered upon her perfect face.
"In other worlds her soul finds scope;
Her spirit lives; she is not dead,"
In his dulled ear they said and said,
Suave-murmuring the ancient Hope.
"You loved her; she was worthy love.
Think you her spheral soul can cease?
Nay, she has ripened to release
From this bare earth, and waits above."
His brain their clamour heard aloof;
He, too, had said the self-same thing;
But now his heart was quivering
For more than comfort - parched for proof.
He put them from him. "Let me be;
You proffer in my bitter need
The coward comfort of a creed
That tears her soul apart from me.
"She waits in no drear Heaven afar.
Her woman's soul in all its worth,
Yearning for me, for homely earth,
No gates of beaten gold could bar.
"No, she is near me, ever close;
One with the world, but free again;
One with the breezes and the rain;
One with the mountain and the rose.
"She knows me not; her voice is dumb;
But aching through the twilight peers,
And, unremembering, yet with tears,
She strives to say she cannot come.
"Yes, she is changed, but not destroyed;
The words that were her soul are hushed;
The gem that was her heart is crushed -
Its fragments white stars in the void.
"And I shall see her in disguise;
In the grey vistas of the street
A face that hints of her I meet;
Whispers her soul from alien eyes.
"In Time's great garden, spring on spring,
The blossoms glow; then at a breath
Their petals flutter down to death -
Ah love, how brief your blossoming!
"Death has but severed part from part.
Borne on an ever-moving air
The fragrance of her life somewhere
Freshens some lonely wistful heart!
"No word of hers can God forget;
Her laughter Time dare not disperse;
It shakes the tense-strung universe,
And with the chord it trembles yet.
"Each mood of hers, each fancy slight,
In deep pulsations, ring on ring,
Dilating, ever-widening,
Ripples across the outer night.
"Her life with deathless charm was fraught,
And God with smiles remembers now
The puzzled pucker of her brow
Ruffled with sudden gusts of thought.
"And in His cosmic memory wise
Still live her subtle features thin,
Her dear iconoclastic chin,
The grave enigma of her eyes.
"And if beyond she might draw breath.
And know that I was not with her,
The wistful eyes of her despair
Would be more desolate than death.
"But not to meet her in the wide
Night-spaces I must wander through;
To kiss the pretty pout I knew,
And nevermore to hear her chide;
"To speak those childish words that were
So foolish-sweet, so passionate-wise;
Her subtle fragrance recognise
And hear the whispers of her hair! . . .
"Her sun has set; but still, sublime,
She is a star, of God a part;
She is a petal at the heart
Of the eternal flower of Time.
"I triumph so beyond regret,
I win her immortality:
Where, Death, your vaunted victory?
Where, Grave, your sting? And yet - and yet--!"
Last updated July 21, 2017