by Arthur Henry Adams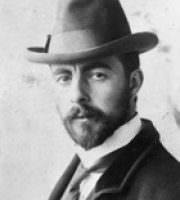 A LONE rose in a garden burned - a quivering flame,
But yesterday blindly from out the bud it came;
And now an envious wind with itching fingers leant
And touched its lingering beauty, and the petals went
Upon the twilight tossing swift,
Like little dusky boats adrift.
Then in the birth and doom of that brief rose I saw
The long unrolling of creation's one vast law.
All things were blossom, and God thrilled at that flower's birth
As when from night-sheathed chaos broke this blossom-earth.
For God no large or little knows -
A universe slept in the rose.
The scattered star-mist, that dishevelled trails through Space,
Hears the low whisper of the Spring, and to its place
Whirls vastly, and its bulk with aching life is torn,
And with a pang that shakes all Space a sun is born
But God on it bestows the heed
He gives to any wayside weed.
About it bloom the planets, like a pageantry
Of rival blossoms in a garden-galaxy.
They break and wane and wither, till upon some earth,
Faded and chill and shrunken, a pallid thing has birth;
And on a world weary with strife
Creeps forth the efflorescence Life.
Strange vegetations fiercely bloom and fall from sight;
Monsters uncouth are spawned, and sink into the night;
Huge mountains blossom white beneath the ocean spray;
Vast tropics glow where once the glacier-ice held sway -
Till, like a lichen on the stone,
Comes Man, bearing a soul unknown.
The lichen spreads, and civilisations grow forlorn,
Bloom once, and, dying, blight the place where they were born.
Incomparable, unique, each in lone splendour burns;
Each bears one perfect grace that nevermore returns.
Ah! gone is sculptured Egypt - gone
The blossom that was Babylon!
The lotus of the East, the Grecian lily cold -
Each blossoms only one new beauty to unfold.
And this rich rose, the West, that opens now so vast,
Shall tell its message, then upon the night be cast.
But still God scatters through the gloom
New seeds whence nobler flowers shall bloom.
And aeons rise and fade, and still the petal-years
Fall from the trembling stem of Time, that proudly rears
Space, like the last huge blossom of the far-thrown seed;
And Space itself shall wither like a trampled weed.
But in the void the Sower still
Scatters new seed, until - until . . .
Last updated July 21, 2017