by Kenneth Slessor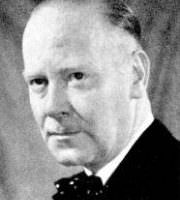 Kenneth Slessor
TAKE your great light away, your music end;
I'm off to feed myself as quick as I can.
You're perfectly impossible to comprehend,
I'm such a busy man.
Good God, haven't you got a circumference?
There's not a moment I can call my own-
My clocks, my keys, my wheels and instruments
And that fierce Ethiop, the telephone.
No doubt, it's very charming out in the sun,
But there are other things, you know. In any case,
I've got no time, no time. There's much to be done.
Thank God for this, my faithful carapace!
Last updated May 31, 2017