by Edward Dowden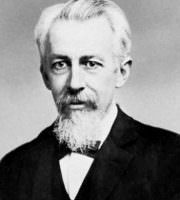 My long first year of perfect love,
My deep new dream of joy; She was a little chubby girl,
I was a chubby boy.
I wore a crimson frock, white drawers,
A belt, a crown was on it;
She wore some angel's kind of dress
And such a tiny bonnet,
Old-fashioned, but the soft brown hair Would never keep its place;
A little maid with violet eyes,
And sunshine in her face.
O my child-queen, in those lost days
How sweet was daily living!
How humble and how proud I grew,
How rich by merely giving!
She went to school, the parlour-maid
Slow stepping to her trot;
That parlour-maid, ah, did she feel
How lofty was her lot!
Across the road I saw her lift
My Queen, and with a sigh
I envied Raleigh; my new coat
Was hung a peg too high.
A hoard of never-given gifts
I cherished, priceless pelf;
'Twas two whole days ere I devoured
That peppermint myself.
In Church I only prayed for her
'O God bless Lucy Hill;'
Child, may His angels keep their arms
Ever around you still.
But when the hymn came round, with heart
That feared some heart's surprising
Its secret sweet, I climbed the seat
'Mid rustling and uprising;
And there against her mother's arm
The sleeping child was leaning,
While far away the hymn went on,
The music and the meaning.
Oh I loved with more of pain
Since then, with more of passion,
Loved with the aching in my love
After our grown-up fashion;
Yet could I almost be content
To lose here at your feet
A year or two, you murmuring elm,
To dream a dream so sweet.
Last updated January 14, 2019