by Kenneth Slessor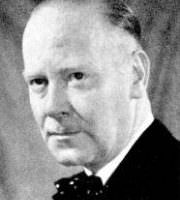 Kenneth Slessor
IN the castle of Glubbdubdrib
How spendidly we dine
On flesh from magic potagers
And cups of dead men's wine,
Dead men who run with bottles,
Lackeys of silent air,
A ghost in gilded livery
Fawning behind each chair.
Beckon, and flunkey Caesars
Bring us their phantom bread.
Once they were gods and emperors;
Now, of course, they are dead.
The governor of Glubbdubdrib
(Two ghosts cringe on each side)
Bows to congratulations,
Filled with a careless pride.
"Really, the servant problem . . . .
You mean that Roman youth?
Catullus. Oh, yes, brisk enough,
But-you know-so uncouth.
"There's Plato in the passage,
They tell me he's quite droll.
He says some devilish clever things;
A heathen, though, poor soul . . . ."
The governor of Glubbdubdrib
Resumes his drinking-cup.
As for the guests and visitors,
They hadn't even looked up.
Last updated May 31, 2017