by Ada Cambridge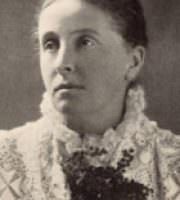 Me let the world disparage and despise -
As one unfettered with its gilded chains,
As one untempted by its sordid gains,
Its pleasant vice, its profitable lies;
Let Justice, blind and halt and maimed, chastise
The rebel spirit surging in my veins,
Let the Law deal me penalties and pains
And make me hideous in my neighbours' eyes.
But let me fall not in mine own esteem,
By poor deceit or selfish greed debased.
Let me be clean from secret stain and shame,
Know myself true, though false as hell I seem -
Know myself worthy, howsoe'er disgraced -
Know myself right, though every tongue should blame.
Last updated January 14, 2019