by Edward Dowden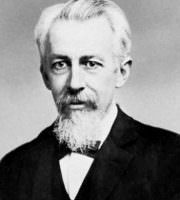 THE altar-lights burn low, the incense-fume
Sickens: O listen, how the priestly prayer
Runs as a fenland stream; a dim despair
Hails through their chaunt of praise, who here inhume
A clay-cold Faith within its carven tomb.
But come thou forth into the vital air
Keen, dark, and pure! grave Night is no betrayer,
And if perchance some faint cold star illume
Her brow of mystery, shall we walk forlorn?
An altar of the natural rock may rise
Somewhere for men who seek; there may be borne
On the night-wind authentic prophecies:
If not, let this-to breathe sane breath-suffice,
Till in yon East, mayhap, the dark be worn.
Last updated June 03, 2017