by Atul Chandra Sarkar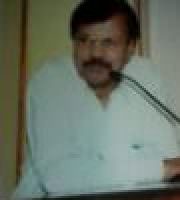 Leave me alone in this cacti land,
Midst thirsty sands and storm,
To probe my solitary self and leap,
Into transcendentalism warm.
Free my-self from the alluring dazzle,
Of the multi-dimensional world,
From the breathing and the sensate,
The static, seemingly unfurled.
Free from the hold of illusion,
To comprehend Truth and Reality,
The noumenal and phenomenal,
That which no university can impart.
Let me winnow the subtle from gross,
Sift facts from fiction,
Let me discern the primal sound,
From terrestrial sounds and diction.
Let me journey deep inside,
To discover my originality,
Let me dispel all ignorance,
Discover myself in my Beloved:
The Almighty.
From:
Atul Chandra Sarkar
Copyright ©:
atul chandra sarkar
Last updated September 19, 2016