by William Butler Yeats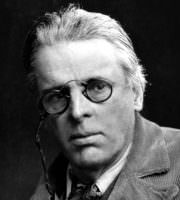 All the heavy days are over;
Leave the body's coloured pride
Underneath the grass and clover,
With the feet laid side by side.
Bathed in flaming founts of duty
She'll not ask a haughty dress;
Carry all that mournful beauty
To the scented oaken press.
Did the kiss of Mother Mary
Put that music in her face?
Yet she goes with footstep wary,
Full of earth's old timid grace.
'Mong the feet of angels seven
What a dancer glimmering!
All the heavens bow down to Heaven,
Flame to flame and wing to wing.
Last updated July 04, 2015