by Alexander Pushkin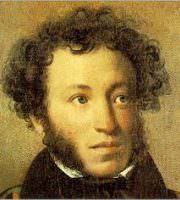 I remember a marvellous instant,
Unto me bending down from above,
Thy radiant vision appearing
As an angel of beauty and love.
'Mid the torments of desperate sadness,
In the torture of bondage and sighs,
To me rang thy voice so beloved--
And I dreamed thy miraculous eyes.
But the years rolled along--and life's tempests
My illusions, my youth overcame,
I forgot that sweet voice full of music--
And thy glance like a heavenly flame.
In the covert and grief of my exile,
The days stretched unchanged in their flight,
Bereft inspiration or power,
Bereft both of love and of light.
To my soul now approaches awakening,
To me thou art come from above,
As a radiant and wonderful vision--
As an angel of beauty and love.
As before my heart throbs with emotion,
Life looks to me worthy and bright,
And I feel inspiration and power--
And again love and tears and the light!
Last updated January 14, 2019