by Anna Yin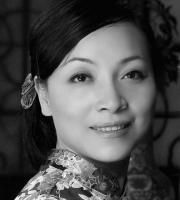 When my father rebuilt his house,
on each stair he carved
his and my mother's names.
My father is not a superstitious or rich man,
with all of us grown up and living far away,
his narrow tall four-floor building
rose with our criticisms of its waste.
My father rolled his eyeballs, broke his silence:
"Find your own floor and stay longer."
He winked at us,
"At least none would buy."
My father's wisdom was defeated by the city plan.
Officers came along with bulldozers and demanded he leave.
My father climbed up to the roof, and refused to move.
Holding his camera, my father shot his last photo
among the knocked down neighborhood.
I received a copy of the photo in the local newspaper.
My father looked so small on the top of the ruins,
It was titled, "The Last Temple".
From:
Seven Nights with the Chinese Zodiac, (Black Moss Press 2015)
Last updated October 24, 2018