by Arthur Stringer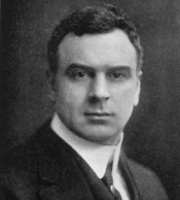 Of my ould loves, of their ould ways,
I sit an' think, these bitther days.
(I've kissed — 'gainst rason an' 'gainst rhyme —
More mouths than one in my mad time!)
Of their soft ways an' words I dream,
But far off now, in faith, they seem.
Wid betther lives, wid betther men,
They've all long taken up again!
For me an' mine they're past an' done —
Aye, all but one — yes, all but one!
Since I kissed her 'neath Tullagh Hill
That one gerrl stays close wid me still.
Och! up to mine her face still lifts,
An' round us still the white May drifts;
An' her soft arm, in some ould way,
Is here beside me, night an' day;
But, faith, 'twas her they buried deep,
Wid all that love she couldn't keep,
Aye, deep an' cold, in Killinkere,
This many a year — this many a year!
Last updated January 14, 2019