by Atul Chandra Sarkar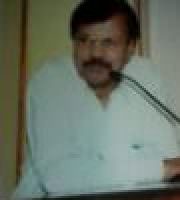 The desire for company
Is the seed of solitude,
The zeal for the Divine
Is the rain of beatitude.
Beyond the last terminal,
Each one has to go alone;
Why not from now onwards
Change our attitude.
Instead of grumbling
For things we don't have;
Let's cherish our bounties,
Thank God in gratitude.
Let's meditate and discover
Our inner world in quietude;
Let's journey within,
For spiritual magnitude.
In a journey round the world
We'll go where others have been or be;
In our inward journey there's always,
An unscaled, mystic altitude.
All that you have gathered
Was never yours, nor shall it be;
Be ready to leave, just as you came,
Stripped of all, unashamedly nude.
From:
ATUL CHANDRA SARKAR
Copyright ©:
atul chandra sarkar
Last updated November 14, 2014