by Atul Chandra Sarkar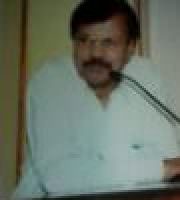 May be one partying evening
Or a bright morn,
When a familiar body fragrance,
Suddenly turns you on,
Someone somewhere tells you
That I'm not, I'm gone.
Just close your eyes,
See me in you,
I'll make a leaf of you
And myself a dew!
Let not tears dampen
The warmth of parting,
Let not your lament,
Delay the unknotting.
Be happy that I have luckily
Crossed over the threshold,
Be happy that I'm fortunate
My Creator to behold!
Just extend your hand
To contain a palmful of rain,
I know you cannot
So why feel the pain?
I know no one can
So why feel the pain?
From:
ATUL CHANDRA SARKAR
Copyright ©:
atul chandra sarkar
Last updated November 17, 2014