by Alexander Beaufort Meek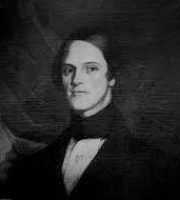 In a small grove of dogwood trees,
Whose spring-time flowers perfumed the breeze,
By Pascagoula's tawny wave,
There was a little new-made grave.
And there above the humble mound
A youthful mother oft was found,
Who thus, in sad and frantic strains,
Wept o'er her first-born babe's remains:
"Now cradled in the damp cold ground,
My little warior lies;
Now he is bound with wampum round,
And shut his sparkling eyes:
Yet why, above his place of sleep—
Why should I weep?
"The little bird, when it is grown,
Must leave its native nest,
'Mid snares and foes to soar alone,
By want and care distrest;
And oft the cruel hunter's dart
Will pierce its heart.
"But thou, sweet one, hast shed no tears,
Nor felt the woes of life;
Thy spirit, undisturbed by fears,
By anguish and by strife,
To golden groves has soared above,
Bird of my love!
"Ah! hadst thou only staid below,
What grace and strength were thine,
To chase the dear, to bend the bow,
To draw the fisher's line!
Or bravely in the battle-field
The club to wield!
"Yet why should I lament thy doom?
The bud, that in the Spring-time dies,
Bears all its bloom and sweet perfume
To spirits in the skies!
A heavenly blossom now thou art,
Bud of my heart!
"But oh thou wert too young to go,—
Thy little tender feet
No father's guidance now can know,
No mother's counsel meet.
Who now will nurse thy fragile form,
And keep thee warm?
"Ah! yes, I hear a spirit say
I will protect him here—
Who from their cradles pass away,
To us are ever dear.
Then why my babe above thy sleep—
Why should I weep?"
Last updated October 13, 2022