by Alexander Beaufort Meek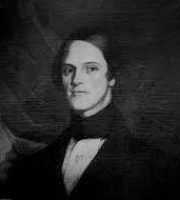 CANTO FIRST.
I.
How brightly down the burning West,
The monarch sun now sinks to rest,
Flinging abroad his breath of gold.
O er all the clouds collected there,
Like bannered armies to behold,
Day dying on his gorgeous car!
Lo! like a God, his mighty brow
Glows with a rich effulgence now,
As, smiling grandly, he retires,
With lingering glance and farewell fires,
From the sweet scene that all the day
Has wooed his most benignant ray,
Fair Alabama s forest Land,
In its primeval verdure drest,
With waving woods, and rivers grand,
And mountains that like giants stand
To guard its pictured valley s rest!
From morn till eve, that sun has seen
But one unbroken world of green.
From Chattahoochee s yellow wave,
By Tallapoosa s waters clear,
Where Coosa s isle-gemmed currents lave,
And young Cahawba s hills uprear,
To where fair Tuscaloosa glides,
And dark Tombecbee pours his tides,
Incessant wilds, o er hill and plain,
In virgin loveliness remain,
And scenes as fresh and bright display,
As ever met the eye of day:
No lovelier land the Prophet viewed,
When on the sacred mount he stood,
And saw below, transcendent shine,
The streams and groves of Palestine!
All through this lordly realm so wide,
This wilderness of woods and flowers,
This paradise of fragrant bowers.
No human home that sun espied,
Save cone-like cabins, mid the trees,
Whose bark-roofs totter in the breeze,
And scarcely serve as shelter rude
For their red tenants of the wood.
Northward, amid his mountains free.
The wigwams of the Cherokee;
And southward by each winding stream.
That veins the earth s enamelled breast,
Muscogee s scattered camp-fires gleam
The tameless Arab of the West!
These only met his morning eye,
Though far the sun flamed in the sky:
But westward, where he now delays,
The white man s home arrests his rays,
The dauntless pioneer who came,
From distant lands, these wilds to tame.
And bid, beneath their genial skies,
His farms extend, his domes arise,
By Alabama s lordly tide,
And Tensaw s dark and turbid stream,
Whose mingling waves now gulfward glide,
Through forests vast, in golden pride,
Lit by the day s departing beam !
Few days agone, the song of peace
Was heard amid these woodland homes,
The sounding axe smote forest trees,
And upward sprang new rustic domes.
Blue, through the groves, the morning smoke
Curled gently towards the placid sky,
And merry laugh, and shout and joke,
From busy fields, swept frequent by.
Along the stream, the light bark bore
Young commerce to the opening shore,
And rosy children strolled away,
With bees and birds, through woodlands gay.
But now another scene is there!
The field is tenantless and bare;
The song is hushed, the hearth-fire out;
Silent the boatman s frolic shout;
Wild terror hover s o er the scene,
Where lately all was so serene;
For hark! the Indian s fierce war-cry
Hath pealed along that forest sky,
And all, before the dread report,
The startled sire and trembling maid,
For safety, to yon sheltering Fort,
From leagues around, have wildly fled;
And now while all the West in radiance swims,
The sun s last glory lingers on Fort Mimms!
II.
The scenes around are beautiful,
Though summer hath displaced
Much of the verdant loveliness
That in the spring-time, graced
These huge old forests, where the vines
With flashing leaves and flowers,
In gay festoons and playful twines,
Formed fair perennial bowers.
The spring-time s flush hath gone, but yet
Where yon secluded dell
Slopes gently to the river s brink,
What lingering graces dwell!
There beech and cedar overhead
Their tall trunks lift away,
And interlacing branches keep
A coolness all the day.
The large vines, coiled like serpents round
Their topmost limbs, descend
In long volutions to the ground,
And with the shrubbery blend.
Here sunbeams never fall at noon,
But summer keeps a shrine,
Where heart-sick lovers might repair,
To dream of things divine;
Or where the wild deer s antlered head
Might rest from fervid beam.
With sleepy coolness round him spread,
His large eyes like a dream !
And in that bower, at this still hour,
A maiden form is seen,
Singing and swinging in the vines,
Like some young forest Queen!
Last updated October 13, 2022