by ATUL CHANDRA SARKAR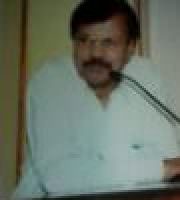 When the crescent
Was a silvery curve line:
A clip of enigmatic brilliance,
Adorning the darkening tresses,
Of a poignant evening,
I thought of you.
I squiggled your name,
On the blackboard of darkness,
Watching love-struck cicadas,
Encircle the blinking street-neon,
Whose blackened ends,
Proved its last lap state;
Just like the cicadas,
And me without you.
Your favourite fragrance,
Your enlivening footfall,
The aerial caress
Of the cotton-seed,
Touched, passed me;
Making your presence live!
I spent silver-edged, dark hours,
With you in my dream couch.
Ah! but where am I now:
Just another cicada,
Seared and shriveled,
Down-trodden,
At the feet of the lamp-post,
Signed by passing dogs,
What have you made of me?
What have you….?
I placed you on the highest pedestal,
You floored me:
The unneeded.
From:
ATUL CHANDRA SARKAR
Copyright ©:
atul chandra sarkar
Last updated December 15, 2014