by Boris Pasternak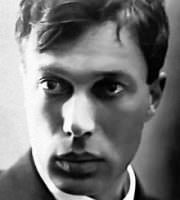 All morning high up on the eaves
Above your window
A dove kept cooing.
Like shirtsleeves The boughs seemed frayed.
It drizzled. Clouds came low to raid
The dusty marketplace.
My anguish on a peddlar's tray
They rocked;
I was afraid.
I begged the clouds that they should stop.
It seemed that they could hear me.
Dawn was as grey as in the shrub
Grey prisoners' angry murmur.
I pleaded with them to bring near
The hour when I would hear
Tidbits of shattered songs
And your wash-basin's roar and splash
Like mountain torrents' headlong rush,
The heat of cheek and brow
On glass as hot as ice and on
The pier-glass table flow.
My plea could not be heard on high
Because the clouds
Talked much too loud
Behind their flag in powdered quiet
Wet like a heavy army coat,
Like threshed sheaves' dusty rub-a-dub
Or like a quarrel in the shrub.
I pleaded with them-
Don't torment me!
I can't sleep.
But-it was drizzling; dragging feet,
The clouds marched down the dusty street
Like recruits from the village in the morning.
They dragged themselves along
An hour or an age,
Like prisoners of war,
Or like the dying wheeze:
"Nurse please,
Some water."
Last updated January 14, 2019