by Confucius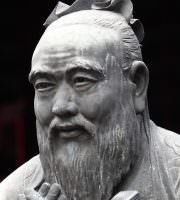 My only door some pieces of crossed wood,
Within it I can rest enjoy.
I drink the water wimpling from the spring;
Nor hunger can my peace destroy.
Purged from ambition's aims I say, "For fish.
We need not bream caught in the Ho;
Nor, to possess the sweets of love, require
To Ts'e, to find a Keang, to go.
"The man contented with his lot, a meal
Of fish without Ho carp can make;
Nor needs, to rest in his domestic joy,
A Tsze of Sung as wife to take."
Last updated January 14, 2019