by Confucius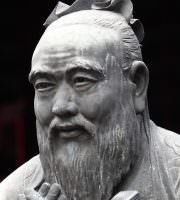 In hewing an axe-shaft, how must you act?
Another axe take, or you'll never succeed.
In taking a wife, be sure 'tis a fact,
That with no go-between you never can speed.
In hewing an axe-shaft, hewing a shaft,
For a copy you have the axe in your hand.
In choosing a wife, you follow the craft,
And forthwith on the mats the feast-vessels stand.
Last updated January 14, 2019