by Fenton Johnson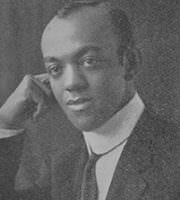 1.
One sunset when the skies were deepest red,
As if they blushed for all the human sins,
I saw her gather daffodils, and sighed,
For she was sweeter far than those poor flowers
And all the flowers that grace this universe,
And in my dream I saw a crown descend
From out the firmament and drop to earth.
It fell beside a brook whose gleaming drops
Shone like the diamonds in the sable night,
And I, the humblest in the realm of men,
Stooped low and placed it on her bonny head.
Last updated September 21, 2022