by Fenton Johnson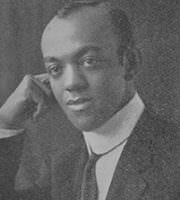 I
Romance, who sleeps and dreams with me,
In cup of amaranth and roses, too,
Once more thou stringest melody
Conceived of cloud and heaven blue;
Once more I look into thy eyes,
Kissed by the mellow summer moon,
And wonder where my wild heart lies, —
Wild heart that now is in its noon.
II
Ah, lazy dreamer, where the stars
Go swimming in the ether deep,
And play a hundred golden bars,
The sweetest maiden lies asleep
On barge wrought from the snowy cloud;
And she is Queen, my darling Queen,
My life, my hope, my angel proud, —
The first this gloomy earth has seen.
III
Romance, didst thou conceive her form,
Her life, so young and richly sweet,
And place her where the winter storm
Would cause her tender heart to bleed?
Romance, thou simple, dolting pest,
Thou mak'st me but an idle child,
A gazer on the charming sex, —
On Cora — Cora — darling child.
Last updated September 21, 2022