by Philo Ikonya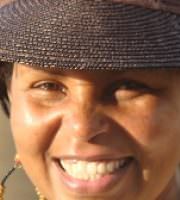 Joy has been calling me
making me know that I must
now always be standing on top
of my little mountain.
That in every situation
I can only think of winning.
You lit many candles there last night.
Then we watched in deep prayer,
Spirit clinging on to spirit, silence.
Some young ones moved in to hold tight,
to your faith in humanity making humanity.
I will remember all the prayers:
For Russia and for Norway,
and for Africa, there Ivory Coast for
peace.
In Nigeria a new election face for Afrika.
Praying for centers and cities to work out peace.
The Middle East is in my chest.
Working for peace behind the scenes,
not making news but taking every wound,
and trying to prevent another rush of hot blood.
I know my moments flood with doubts,
when no one knows how many die,
you have a clean bandage for my pain,
with it I can wipe my tears of blood in words.
There is a mosque in your courtyard.
I took off my shoes to peep there.
Little ones take refuge here.
Their names have been soiled by
fundamental lists.
Their souls want living peace,
their faces are crying with fear.
There is a mosque in your
Christiania home, peace rises like in
Bhuddist temples become homes of surgery.
You have experts in taichi,
Discipline the world and teach it urgency.
This first candle is for my son,
making courageous turns.
Copyright ©:
Philo Ikonya
Last updated July 14, 2015