by Philo Ikonya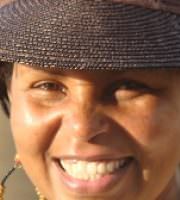 If you had not given me refuge,
I would have found it impossible,
To start again with confidence,
Like a spider, pulling its own thread,
to make a web, spinning its castle,
No matter how delicate.
I had lost the illusion you see,
and the most difficult thing,
is to re- start, that part in your soul
that believes it can.
That part they try to kill,
but will never succeed.
I know there is no haven of peace,
Dar es salaam* too had a bomb,
Nairobi's snapped life in me
No one knows all the secrets of a womb,
I know the world is restless,
but your caress has kept me,
dressed in my robe of sanity.
It has kept my soul alive to me,
so that it can feel another's pain.
It has kept me alive to all,
so that I can celebrate a New Year.
1.1. 2011.
Copyright ©:
Philo Ikonya
Last updated July 14, 2015