by George Marion McClellan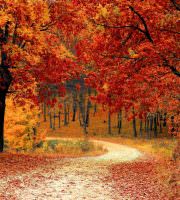 The golden-rod was flaming bright,
The autumn day was fine,
The air was soft and scented with
The purple muscadine.
We travelled far a wooded path,
The sky was bright above
And all things seemed to smile and breathe
A blessing on our love.
O! sweet and dreamy was that face,
Such tenderness expressed
In every line, and born to be,
Love burdened and caressed.
So happy in my happiness
I could not think it then,
That after parting on that day
We should not meet again.
For hope is ever found with love,
And there were visions fair
For us of boundless happiness
In that sweet autumn air.
But many years of shifting scenes,
Have come and gone since then,
And those dear, tender, dreamy eyes
I have not seen again.
And once I thought with bitterness—
My God, forgive the sin—
My barren life and hapless love
Would better not have been.
But looking back through all my years
Of weariness and pain,
I know that tender, dreamy face
I did not love in vain.
The lengthening days and months and years
Have brightened on my way
By living on in memory
One long past autumn day.
And late a faith has come to me,
I think it God has willed,
That all those autumn promises
Are yet to be fulfilled.
For I believe with all my heart,
The time I know not when,
With hearts still true, my love and I
Shall somewhere meet again.
Last updated May 15, 2023