by Giosuè Carducci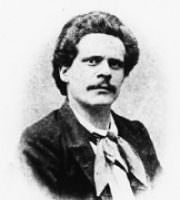 O the lamps—how they chase
each other lazily there behind the trees,
yawning their light through dripping
branches onto the mud.
Faint, fine, shrill, a nearby
steam engine hisses. A lead sky
and the autumn morning
enwrap us like a great chimera.
Where and to what are they going, these people,
cloaked and silent, hurrying to dark cars—
to what unforeseeable sorrows
or pangs of remote hope?
Even you, rapt Lydia, give
to the conductor your torn ticket,
and to pressing time your beautiful years,
your memories and moments of joy.
Along the black train come
the trainmen hooded in black
like shadows, with dim lanterns
and iron sledges, and the iron
brakes when plied make a long
enervated clang: from the soul's depths,
an echo of languor makes its sad
reply, like a shudder.
And the doors slammed shut
seem like outrages: a quick jibe
sounds the final farewell:
thundering on heavy panes, the rain.
Already the monster, owning its metallic
soul, fumes, slouches, pants, opens
wide its fiery eyes; defies the heavens,
whistling through the gloom.
The unholy monster goes; with a horrible tug,
beating its wings, it carries away my love.
Ah, the alabaster face and fine veil,
hailing me, disappear in darkness.
O sweet face of pale rose,
o starlit placid eyes, o snow-white
forehead ringed with luxuriant curls
gently bending in a nod of love.
The warm air was throbbing with life;
the summer throbbed when she looked on me,
and the youthful June sun
liked to shower her cheek
with kisses of light, reflected through
auburn hair: like a halo
more brilliant than the sun, my dreams
encircle her soft shape . . .
Beneath the rain, I return through
the haze; and I would lose myself in it.
I stagger like a drunk. I touch myself
to see if I also have become a ghost.
O how the leaves are falling—cold,
incessant, mute, heavy—on my soul.
I know that everywhere in the world,
solitary and eternal, it is November.
Better he who's lost the sense of life,
better this shadow, this haze:
I want O how I want to lie myself down
in doldrums that will last forever.
Last updated January 14, 2019