by Philo Ikonya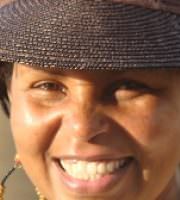 I surf and google to touch Hope today,
But in my memory she lies submerged,
Hope is water, hope is green.
Hope is tops, she lights up love.
And in my hut she was all I knew.
Hope in my village was that stream,
Where our dreams we spoke adrift
going where spirit refuses to break faith
As the waters bubble in our hearts,
sailing on a journey so unknown.
Riiiiara river, font soul baptism,
and Wedding vows exchanged with hope,
As the cemetery on the hill listened
to brave words, keenly spoken there,
yet again 'till death do us part'.
Hope is my tiny canoe that sails
all the way down past jail's cuffs,
Down Nairobi River sail on,
clean river, river clean,
without pollution, I can breathe.
Hope is the Tana clean and tidy,
Athi and Rufiji and Limpopo!
Nile blueing Africa, and greening hope,
All bananas clap and mangoes smile,
All the village streams and dreams my world,
wanting to see the Amazon clean,
Googling hope, bubbling Hope,
Up down slopes of memory so green.
Hope, hope springs and flows.
Nairobi, 2007
Copyright ©:
Philo Ikonya
Last updated July 14, 2015