by John Cunningham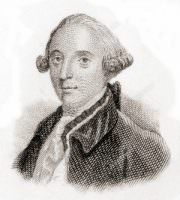 A MPHITRYON and his bride, a godlike pair!
He brave as Mars, and she as Venus fair;
On thrones of gold in purple triumph plac'd.
With matchless splendour held the nuptial feast:
Whilst the high roof with loud applauses rung,
Enraptur'd, thus, the happy hero sung:
" Was mighty Jove descending
In all his wrath divine,
Enrag'd at my pretending
To call this charmer mine:
His shafts of bolted thunder
With boldness I'd deride;
Not Heav'n itself can sunder
The hearts that love has ty'd. "
The Thunderer heard, — he look'd with vengeance down,
Till beauty's glance disarm'd his awful frown.
The magic impulse of Alcmena's eyes
Compell'd the conquer'd god to quit his skies;
He feign'd the husband's form, possess'd her charms,
And punish'd his presumption in her arms.
He deserves sublimest pleasure,
Who reveals it not, when won:
Beauty's like the miser's treasure;
Boast it — and the fool's undone!
Learn by this, unguarded lover,
When your secret sighs prevail,
Not to let your tongue discover
Raptures that you should conceal.
Last updated September 05, 2017