by John Cunningham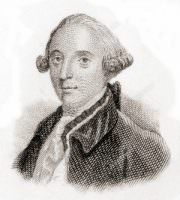 ODE XIV .
Why did I with Love engage!
Why provoke his mighty rage!
True it is the wandering child,
Met me with an aspect mild,
And besought me like a friend,
At his gentle shrine to bend.
True, from my mistaken pride
Due devotion was deny'd,
Till (because I would not yield)
Cupid dar'd me to the field.
Now I'm in my armour clasp'd,
Now the mighty lance is grasp'd,
But an Achillean spear
Would be ineffectual here,
While the poison'd arrows fly
Hot as lightning from the sky.
Wounded, through the woods I run,
Follow'd still by Beauty's son,
Arrows in malignant showers,
Still the angry urchin pours;
Till exhausting all his store,
(When the quiver yields no more,)
See the god — a living dart,
Shoots himself into my heart.
Freedom I must now resign;
Victory, on Love! is thine.
What can outward actions win
When the battle burns within?
Last updated September 05, 2017