by John Cunningham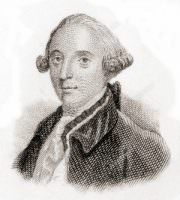 Yes , Colin, 'tis granted, you flutter in lace,
You whisper and dance with the fair;
But merit advances, 'tis yours to give place;
Stand off, and at distance revere:
Nor teize the sweet maid with your jargon of chat,
By her side as you saunter along;
Your taste — your complexion — your this — and your
Nor lisp out the end of your song.
For folly and fashion you barter good sense,
(If sense ever fell to your share)
'Tis enough you could pert petit maitre commence,
Laugh — loiter — and lie with an air.
No end you can answer; affections you've none;
Made only for prattle and play:
Like a butterfly, bask'd for a while in the sun,
You'll die undistinguish'd away.
Last updated January 14, 2019