by John Cunningham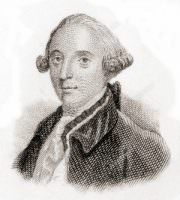 SPOKEN AT EDINBURGH
'T IS an odd portrait that the poet drew,
A strange irregular he sets in view!
'Mongst us — thank heav'n — the character's unknown,
(Bards have creative faculties we own)
And this appears a picture from his brain,
Till we reflect — the lady liv'd in Spain.
Should we the portrait with the sex compare,
'Twould add new honours to the northern fair;
Their merit's by the foil conspicuous made,
And they seem brighter from contrasting shade.
Rude were the rules our fathers form'd of old,
Nor should such antiquated maxims hold.
Shall subject man assert superior sway,
And dare to bid the angel-sex obey?
Or if permitted to partake the throne,
Despotic, call the reins of power his own?
Forbid it, all that's gracious — that's polite!
(The fair to liberty have equal right)
Nor urge the tenet, though from Fletcher's school,
That every husband has a right to rule.
A matrimonial medium may be hit,
Where neither governs, but where both submit.
The nuptial torch with decent brightness burns,
Where male and female condescend by turns:
Change then the phrase, the horrid text amend,
And let the word obey — be condescend!
Last updated September 05, 2017