by Joseph Ignatius Constantine Clarke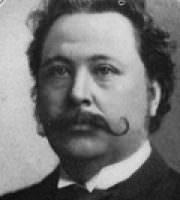 Of all sweet fervors that we mortals meet,
Give me the swift, deep moments that entrance
When beauty passes on her gleaming feet,
And takes us with the glamor of her glance.
The lightning no more blinding ray expends:
The flash, the bolt, the thrill come all as one,
And we are smitten ere the instant ends:
We die, and lo, a new life has begun.
And ever after we are slave and lord
Of that great Queen in light and grace enthroned
Our souls are harp-strings in the grand accord,
And all our words to melody intoned.
So glance not on me, wondrous damosel,
Lest at thy feet to die I shall be fain:
Yet gaze and fold me with thy flaming spell,
That I may die, and blissful live again.
Last updated January 14, 2019