by Kendrick Smithyman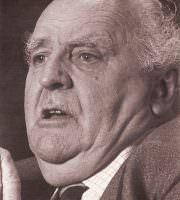 Kendrick Smithyman
Bring laurel here or bay,
shake soft cloths for him dead.
Send him well swathed to bed
with wholly reasonable clay.
Laud him with flute and drum
that all may know we come.
Bring me not bay or rich
garland of state. I sought
to make play with my thought,
would turn to a Danube this ditch.
I fooled with grace, with pride;
then night came, and I cried.
Last updated January 14, 2019