by Marcus B. Christian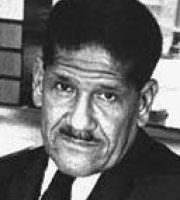 I am New Orleans
Queen City of the South;
As fabulous -- as fantastic and unreal as the cities of Arabian Nights.
I am America epitomized:
A blending of everything -- Latin, Nordic, and Negro,
Indian, European, and American.
I inflamed the mind of John Law
And aroused his ambition and cupidity;
His partners were Avarice and Crime and Lust:
I knew Envy and Hatred, Shame and Despair.
Yet I made them picture me then as I am now --
A Dream City -- then nestling in the lap of wildernesses.
I brought souls reeling
Out of the jails and assignation houses of France,
Out of the Parisian cabarets and the sleepy bourgs of far
provinces,
I herded them together upon huge ships,
Bound for the New Eldorado. . . .
Lofty ships bearing the names of great Frenchmen,
Such as le Grand Duc du Maine, le Comte de Toulousse,
le Marichal de Villars, le Dauphine, le Prince de Conti,
and le Duc de Noailles.
When fame outstripped the ambling winds of truth,
I stretched forth strong hands
And plucked men out of the green fields of Alsace,
Out of German beer-gardens --
Out of Mainz and Bremen, Baden and Wurttemburg;
Out of Switzerland and Spain, Ireland and England,
I brought them to my New Land of Promise.
And when the cry went forth for men -- more men
-- to till my bounteous valley,
I took my vessels with resounding names
And set their sails for the Dark Continent. . . .
Murderers, salt smugglers, thieves, counterfeiters, tobacco smugglers
and forcats;
Femmes de force, filles de joie, and filles a la cassette;
German and Irish Redemptioners sold for their passage over
and whipped like black slaves --
Black slaves sold like cattle and labeled, piece d'Inde:
Such was my beginning.
Huguenots fleeing Catholics and Catholics fleeing Protestants;
Red Republicans fleeing Monarchists --
Proud Monarchists shunning the ominous shadow
of the head-hungry guillotine;
Indians fleeing the stake, only to be bound as slaves;
Blacks hiding from slavery and the white world's
"Thous Shall Not!"
And whites in frenzied, terror-stricken flight before
the wind-whipped fires of black rebellion.
Throughout those cruel years of hounds and hares,
My soil became a refuge for the hunted:
This was my destiny.
I saw the Ursuline Sisters with their heavy Rosaries,
Their Catechisms, and their black slaves;
I welcomed the Jesuits and the Capuchins,
Dressed in their brown-black cassocks,
And the sandalled feet of Pere Dagobert and Pere Antonio de Sedella
fell softly upon me.
I am New Orleans.
Over my cobblestones and muddy byways
Have passed the coureurs de bois, the pioneer, the aristocrat,
the slave, the soldier, the pirate, and the gentleman-farmer,
And they within whose veins the blood of many races mingled.
Out of the swamps of Louisiana,
Out of the blue mud and sand of the Delta,
Out of hurricanes, storms, and crevasses,
Out of Indian massacres and slave insurrections,
Phoenix-like have I risen;
Out of French, Spanish, and American dominations,
I have preserved my soul.
I have seen so many flags go up above my soil --
I have changed hands so often --
Until I have grown wise -- as a woman grows wise
who has known many lovers.
I broke the might of English sails that came
Up over the rim of the sea --
White gulls skimming before the red winds of war.
But I am New Orleans;
I was not afraid . . .
I took my unwieldly elements--
Of Creoles, Americans, Frenchmen, Spaniards, Jews,
Africans, mix-bloods, Germans, Irishmen, and Indians,
And welded them into one common bond of defense
That drove the invader back into the sea.
I have known many people --
Many voices --
Many languages.
I have heard the soft cries of the African,
Jargoning an European tongue:
"Belles des figures!"
"Bon petit calas! Tout chauds, chere, tout chauds!"
"Pralines -- pistaches! Pralines -- pecanes!"
"Ah got duh nice yahlah bananas, lady!"
"Bla-a-a-a-a-ack ber-r-r-r-r-r-e-e-e-e-z!"
"Peenotsa! Peenotsa! Cuma gitta fromee!"
"Ah wanna qua'tee red beans,
Ena qua'tee rice,
Ena piece uh salt meat --
Tuh makkit tas'e nice:
En hurry up, Mr. Groceryman,
En put dat lan-yap in mah han'!"
"Papa Bonnibee, beat dem hot licks out! --
Ah sed, Poppa Stoppa, let dat jazz cum out!
En efyuh donh feet it,
'Tain't no use tellin' yuh
Jess what it's all about!
Now, gimme sum High C's on dat horn 'n' let dem Saints go
marching in!"
"'Way Down Yonder In New Orleans." . . .
Take it away, Mister Charlie!"
I am New Orleans
Where plump little brown girls
With heavy-lade grocery pushcarts
Follow their double-jointed daddies around,
Good-naturedly heckling them through acres of supermart goodies.
"Donh fergit now, Daddy,
Mammah say tuh gittah hambone tuh put endy beans!"
"Baby, Ole Daddy ainh gonh nevah fergit nut'n lak dat!
Ahm gonh gittah hambone dat's gonh make dem stink!"
"Gonh makdy beans stink, hunh, Daddy?
Daddy sayee gonh makdy beans stink!"
"Yeah, Baby, Ole Daddy gonh gittah hambone dat'll
make dem beans stink jess lackah ole-fashion' country privy!"
"Un-n-n-n-h, Daddy! donh bleev Ah wanenny efdy gonh stink dat much!"
Many voices -- many languages.
I have been alternately cursed and praised in the hoarse
gutturals of the African and the German;
I have been condemned and cajoled in the machine-gun
polysyllables of the Italian;
I have been damned and glorified
In the French of the Sorbonne, of Paris Communes.
I have been alternately execrated and blessed by the Indian.
the Spaniard, and the Irishman.
Proud mulatto Creoles have cursed and excoriated me
In French and Spanish that shamed their betters--
Then wiped my dust from their disdainful feet
For star-cross'd destinies in foreign lands,
But they returned to grovel in my dust and weep;
Exiles no more, but lovers.
I have known epidemics, vicissitudes, and calamities:
--Tar-barrels flaming at street-corners, and big
guns barking defiance to plague-stricken air, yet
Asiatics cholera scourged me hard in drunken, beserk
fury; they who danced the night before died
in the hush of dawn.
But when the cry raced forward: "El Vomito!"
"El Vomito!"
Brave men lost courage--quitted loved ones--fled!
Yellow fever epidemics have left me shrivelled and shrunken;
Fires have swept through and gutted me;
Human passions have done likewise;
But after all is done.
I arise from the still warm ashes
More beautiful than ever.
Wars have played upon my heart-strings
Their symphonies of human emotions
of love, envy, anger, malice, hatred, and greed.
Iberville, Bienville, Perrier, de Vaudreuil, Galvez,
Andy Jackson, and Ben Butler.
Samba, the revolutionary Bambara king;
Bras Coupé, the one-armed black brigand
with a price upon his head:
The do-or-die stand of the Savarys at the Battle of New Orleans;
Marie Lavaud, the simple-minded holy woman,
Maligned and lied upon by every passing scribbler;
Mother Catherine, whose faithful flock still awaits her resurrection;
And Brother Isiah, who looked like Christ and healed
the sick and afflicted:
All these have I known.
Revolutionary hands have been lifted for and against me;
Men like Bloody O'Reilly have left their trails of human blood,
But I, in turn,
Absorbed the blood of despot and despised
And each, in turn, became a part of me.
Red hell has flamed upon my very streets
As men fought bloody duels to the death--
Where later children sang their songs at play
***
"Green grass-tuh, green grass-tuh--how green duh grass grow!
All over, all over, it seems to be so!
Miss Walker, Miss Walker, your true love is dead;
He sent you a letter to turn back your head."
***
"Here are two gentlemen just from Spain,
Who came to court your daughter Jane;
Your daughter Jane she is too young
To be control-led by anyone:
Go back, go back, you sassy man,
And choose the faires' in duh lan' . . . ."
--"The faires' one that I can see--
Is . . . Come, Loretta, and go wid me. . . ."
"Loretta is gone, Loretta is gone, widda Guinea-gold ring on her finger;
Good-bye, Loretta! Good-bye, Loretta!
We'll never see you no more."
***
Mary Mack,
Dressed in black,
Twenty-four buttons
Up and down her back.
She asked her ma
For fifteen cents
To see the elephant
Jump the fence.
Jump the fence.
he jumped so high
Tot the sky;
Never come back
Till next July
***
"Swallahs, swallahs fly
Around duh yahlah house
En all duh girls on Kuh-nell Street
Is dead-'n'-gone in love
Exceptin' Miss Louisa--
And who she really loves?--
She loves Albert and Albert loves her.
With bells upon her fingers,
With bells upon her toes,
With a baby in her arms
And that's the way she goes."
* * * * * *
And all the girls on Canal Street are dead-and-gone in love!
Listen to them sing!
Waiting on the levee,
Waiting for the steamboat coming 'round the bend;
Waiting for the Pargoud--
Waiting for the Natchez--
Waiting for the Robert E. Lee--
"Ah gotta man on duh Pargo';
Ah gotta man on duh Lee
Ah gotta man on duh Natchez;
En he's comin' wid money fuh me--
En he's comin' wid money fuh me."
Sing, O, my children, sing!
Sing of a day that long was,
And fondly remembered, still is,
But can never come back again!
Let one long keening ride the wayward winds
and spend itself on yonder hills and valleys.
So come now, little childun,
Cuz you done had yo'day;
Come, set down heah wid Grandpa,
Hit's nigh tuh close o' day.
Compair lapin, Compair Bouki,
Wonh be wid us tunight,
Cuz we's tiahed o' ole Brer Rabbit--
Now tell me, ain't dat right?
Done tole yall all dem bedtime tales,
So, on dis night Ah means
Tuh sing tuh yall uh nice li'l song
'Bout good one New Awleans.
"In sebenteen-eighteen it wuz foun'
W'en Ben Ville sailed in safe en soun'
Wid fifty mens tuh clear duh groun'
E-eye-e-eye-O! (String it out with a long gravy.)
E-eye-e-eye-o!" (Now a lightning-fast yodel.)
"he kumd bout thuh middle o' Febuwary,
Jess fo' duh rivah cud git cuntrary
En flood duh lan' en duh tremblin' prarie."
"Now, duh rich mens' wives wuz proud en col'
En dey dress'd in satin, silk, en gol'
But duh maidens fair wuz brash en bol'."
"Sum wuz skinny en sum wuz fat.
En dey walked lak dis en dey walked lak dat;
But dey'd all kiss uh man at duh drappin o' uh hat;"
"'Twas back in 1781
W'en Galvez kumd wid his big gun,
En capchud ev'y Englishman."
Agin dey tried tuh tek duh town!
But Andy Jackson he kumd down
En rund 'em en duh rivah en made 'em drown!"
"So, lock up duh cabin--th'ow out duh greens--
Put on duh calico en yahlah jeans,
En let's go down tuh New Awleens. . . .
I am New Orleans
A perpetual Mardi Gras
Of wild Indians, clowns, lords and ladies,
Bourbon Street Jezebels, Baby Dolls, and Fat Cats;
Peanut-vendors, flower-sellers, organ-grinders,
chimney-sweepers, and fortune-tellers,
And then, at the end, bone-rattling skeletons
and flying ghosts.
I am New Orleans--
A city that is a part of, and yet apart from all
America;
A collection of contradictory environments;
A conglomeration of bloods and races and classes
and colors;
Side-by-side, the New tickling the ribs of the Old;
Cheek-by-jowl, the Ludicrous making faces at the Sublime.
here, in the graceful curve of Ole Man Mississippi,
Where the lazy old father of the waters
Meanders down to the gulf,
I sing my song:
I sing the song of the Siren, the Voluptuary, the sybarite;
Here, within this ever-green valley and under warm tropical skies
Where guitars tinkle softly deep in a moonlit night
And softer voices whisper of my beauty,
I sing of the newest phases of my greatness;
Reveling in the quickening of progress within and around me.
I sing of the bewildering expanses of far-reaching bridges
and overpasses;
I sing of glittering cities of the sky thrusting themselves
up from the Delta mud,
Brushing the clouds of heaven
With dreams of Recilian beauty and grace;
I sing of far vistas of asphalt streets and highways
Beckoning us on to fantastic future years;
I sing of the Past, the Present, and the boundless Future;
I sing of Love, Adventure, and Enchantment.
Last updated November 13, 2022