by Michelangelo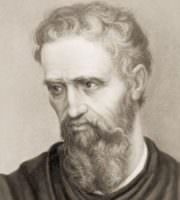 Quante dirne si de'.
No tongue can tell of him what should be told,
For on blind eyes his splendour shines too strong;
'Twere easier to blame those who wrought him wrong,
Than sound his least praise with a mouth of gold.
He to explore the place of pain was bold,
Then soared to God, to teach our souls by song;
The gates heaven oped to bear his feet along,
Against his just desire his country rolled.
Thankless I call her, and to her own pain
The nurse of fell mischance; for sign take this,
That ever to the best she deals more scorn:
Among a thousand proofs let one remain;
Though ne'er was fortune more unjust than his,
His equal or his better ne'er was born.
Last updated January 14, 2019