by Michelangelo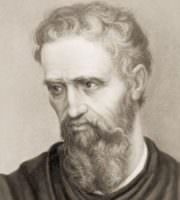 LOVE IN YOUTH AND AGE.
Tornami al tempo.
Bring back the time when glad desire ran free
With bit and rein too loose to curb his flight,
The tears and flames that in one breast unite,
If thou art fain once more to conquer me!
Bring back those journeys ta'en so toilsomely,
So toilsome-slow to him whose hairs are white!
Give back the buried face once angel-bright,
That taxed all Nature's art and industry.
O Love! an old man finds it hard to chase
Thy flying pinions! Thou hast left thy nest;
Nor is my heart as light as heretofore.
Put thy gold arrows to the string once more:
Then if Death hear my prayer and grant me grace,
My grief I shall forget, again made blest.
Last updated January 14, 2019