by Michelangelo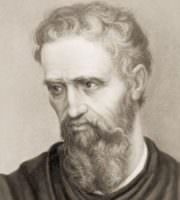 HEAVEN-BORN BEAUTY.
Per ritornar là.
As one who will reseek her home of light,
Thy form immortal to this prison-house
Descended, like an angel piteous,
To heal all hearts and make the whole world bright.
'Tis this that thralls my soul in love's delight,
Not thy clear face of beauty glorious;
For he who harbours virtue, still will choose
To love what neither years nor death can blight.
So fares it ever with things high and rare
Wrought in the sweat of nature; heaven above
Showers on their birth the blessings of her prime:
Nor hath God deigned to show Himself elsewhere
More clearly than in human forms sublime;
Which, since they image Him, alone I love.
Last updated January 14, 2019