by Michelangelo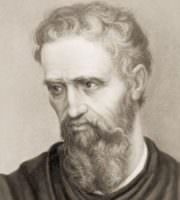 Ognor che l' idol mio.
Whene'er the idol of these eyes appears
Unto my musing heart so weak and strong,
Death comes between her and my soul ere long
Chasing her thence with troops of gathering fears.
Nathless this violence my spirit cheers
With better hope than if she had no wrong;
While Love invincible arrays the throng
Of dauntless thoughts, and thus harangues his peers:
But once, he argues, can a mortal die;
But once be born: and he who dies afire,
What shall he gain if erst he dwelt with me?
That burning love whereby the soul flies free,
Doth lure each fervent spirit to aspire
Like gold refined in flame to God on high.
Last updated January 14, 2019